Rynese & Geron
For complete contest details download the official rules here.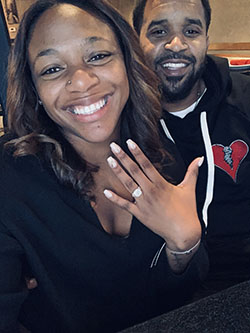 Geron and I have known each other for years. In fact, we have social media messages from over 10 years ago but for whatever reason, we just weren't in God's plans yet. It wasn't until the beginning of the COVID Pandemic when we actually connected. We realized we have much in common. We both love the outdoors, basketball, helping people (social service) and most importantly, we both have great faith. Geron serves the community by providing clothing, school supplies and Christmas toys for those in need. Myself being a social worker and doing a lot of the same things really resonated with the both of us. We tend to both look to help people as much as possible. During the pandemic there weren't many places for us to go on dates or take each other out so, we would walk nature trails (still do). We find our peace together here and they have become a large part of our journey. Our first hangout, first kiss and the place where Geron proposed were all at nature trails. I just couldn't say no. It was the synergy and felt so right. We have both gone through a lot in our lives separately prior to being together and have felt lost. It is now that we both feel grounded, safe and found. We are thankful God brought us together during one of the most trying times in our lives. Now we are building our foundation, learning, loving and growing daily. Thank you, God Bless.
Jaclyn & Joseph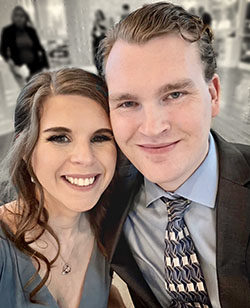 It was a chance encounter that brought us together. One silly moment when I playfully slid a note under my friend's roommate's door, hoping to catch his attention. Little did I know, that small act of courage would lead me to my future husband.
Upon meeting we hit it off right away. Then three months into our relationship, I was diagnosed with thyroid cancer. It was the hardest year of my life and Joe stood by me through it all. No matter how hard it got, Joe always knew how to make me smile. He never wavered in his love and support for me and he was with me every step of the way. He even changed his vacation time to ensure he could stay with me after my surgery while I recovered. As a dedicated NYPD officer, his time off is extremely limited, so that gesture meant the world to me.
Joe is the best thing that has ever happened to me. Throughout our time together our relationship has grown unbreakably strong. I know no matter what we are faced with, we will face it together.
We are excited to start our lives together. However with the cost of living we are forced to choose between housing and the wedding I dreamed of as a little girl. We even thought about potentially relocating, but it broke both of our hearts. We work extremely hard to put aside the little bit of extra money we have for a down payment so we can stay on Long Island. We hope that one day we can start a family surrounded by our loved ones. Winning this wedding would be a dream come true for us and the perfect way to celebrate the love that we share.
Jessica & Michael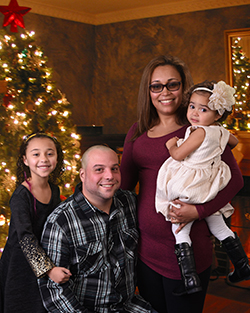 We have been together about 15 years. We have been through so much from giving birth to our first daughter, to me almost dying 2 years ago while pregnant with our only son. I was in a coma and had to re-learn to talk, eat, and walk. Michael was there for it all holding my hand. Even during 4 hours worth of dialysis, all while hold the fort down with our 2 daughters. This has brought us even closer than ever. During this time we almost lost our home but survived all that the storm has weathered. I have seen him in a new light. I fell in love with him all over again.
Jillian & Andrew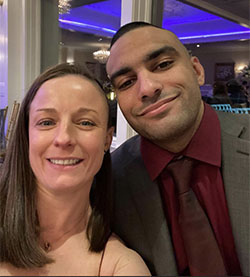 Hi! I am Jillian and my partner is Andrew. We are soulmates. We had both been through ups and downs in life with relationships but because of Andrew's persistence, we're now inseparable.
We met at Long Island MMA, where we are both fighters. After a mutual friend said we should go on a date since "we're both weird," we laughed and shrugged it off. After our first date, I let life get in the way and brushed this to the side. Fast forward a couple months later, and Andrew decided he was a 'glutton for punishment' and tried again! This time, I was ready to give him a fair shake, and the rest has been history with a lot of laughs, love, and adventure.
Both being professional MMA fighters on top of our very involved and intensive day jobs, our schedules are absolutely bonkers. We are crazy about each other and are a crazy, goofy couple always looking for our next opportunity to have some fun or experience more of life together (whenever we find some time). We don't take life too seriously and always find the bright side of any situation.
But the time to plan a wedding does not fit into our busy schedules. This would be a dream come true for us, as we are both people who tend to do things on the fly, and make the most of opportunities we get.
Candice & Genderson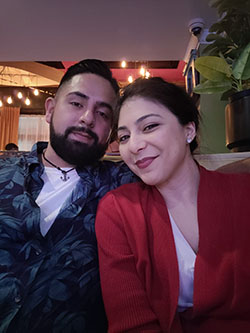 Genderson and I met on social media (Myspace) when we were 16 years old. It was on his birthday that he sent me a friend request. That was where we started our friendship. We actually went to the same High School and lived a few blocks away from each other but had never crossed paths before. After talking on Myspace and AIM over the summer of 2008 we finally met up in High School. I new that I really liked him just from our messages. But the day we saw each other in school I fell madly in love with him. We both told each other that we liked each other that first day of school and he asked me to be his girlfriend. Within the year we professed our sincere love for one another. We have been through it all since then. We have grown together. We are a humble couple living in the same town that we graduated high school together (Elmont). We attended Nassau Community College together to get our associates degrees. We live together in his parents home. We are going to be celebrating our 15th year anniversary of being together this year. We are turning 31, and want to start a family of our own within a couple of years. We just want to celebrate our love with our family and friends. It is extremely exciting to think we could have a chance at having an actual wedding that we could never afford.
Jacqueline & Aaron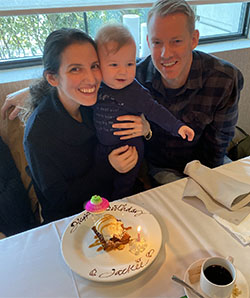 Peanut butter and jelly. Macaroni and cheese. Italian and Irish. Nurse and FDNY firefighter. Just like all good things we just go together!! 6 years dating. 2 years engaged. 1 adorable eight month-old. When we found out we were expecting we picked a mortgage over marriage for our family. Winning this would mean the world to us. We haven't been able to save enough money for the wedding we had been dreaming of. Please help. Love Always, The Future Mrs and Mr, and our son Liam <3
Maria & Chris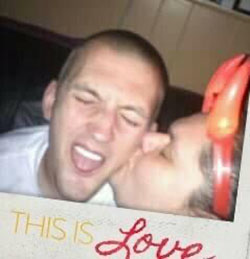 Chris and I have been together since 2008. We have a beautiful 12 year old daughter. Unfortunately we've had some ups and downs. Things were getting great for us when I had a stroke on April 24, 2022. It's been the hardest year of our lives. I need some type of miracle!
---